In the world of medical scrubs, people who wear it should be knowledgeable on how to wash scrubs as to assure proper cleaning and disinfection. 
The medical world is undeniably advancing in many aspects including being on the trend with the latest and modern medical scrubs in different colors and designs. Say goodbye to the boring and plain scrubs for the modern and fashionable scrubs will take your breath away. 
In the medical world, scrub uniforms do not only symbolize the medical profession but also serves as a protection for you and your patients during working hours.  Regardless if you have the most beautiful, expensive, trendy, and colorful scrubs, all medical scrubs can be exposed and can carry stains, germs and bacteria that surrounds the entire hospital, clinic, or any other medical institution. 
Most especially in this difficult time of a pandemic, thorough and proper disinfection and cleaning of the scrubs is one of the most important steps that you should take.
Due to the dirt and bacteria that can stick to your scrubs, washing scrubs at home and cleaning them can be quite challenging. With this, we have gathered some information that medical professionals can do when it comes to how to clean scrubs and how to disinfect them in the right way.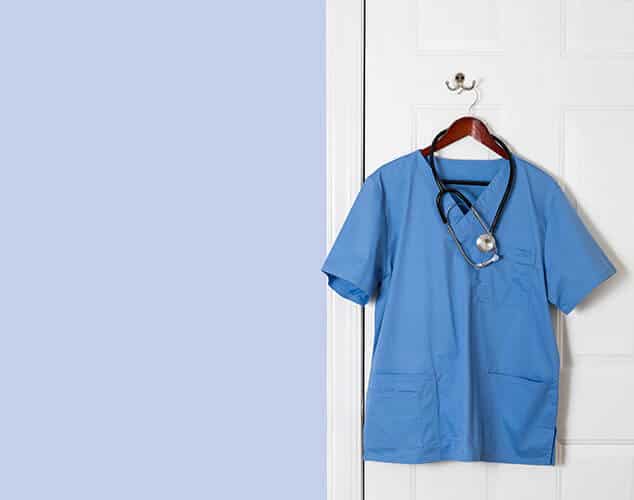 Work Scrub Isolation
It is undeniable that it is time consuming and difficult to wear scrubs only at work, but it is much safer and cleaner to do so. Wearing your scrubs to and from work can attract more bacteria and it can spread anywhere including your home. 
The best thing to do is to wear your usual clean outdoor clothing in going to work and you pack your scrubs with you. When you arrive to work, immediately changed into your scrub uniform, and wear it throughout your shift. When the day is over, change back to your clothing and place your used scrub in a separate plastic. 
In addition, it is better not to wear your scrubs when you go somewhere else or run some errands after work as this may spread any bacteria that you acquired from work. 
As much as possible, when you arrive home from work, immediately wash your scrubs or place it in a different hamper and never mix it with your other laundry.
Wash Separately
Aside from the fact that separating your used scrubs can keep it from contaminating your other clothes, these scrubs need more vigorous cleaning that may not be needed by your other usual clothing.
Used scrubs can be very dirty and contaminated and it will need to undergo more thorough and longer washing and on a higher than usual temperature to assure proper washing and disinfection.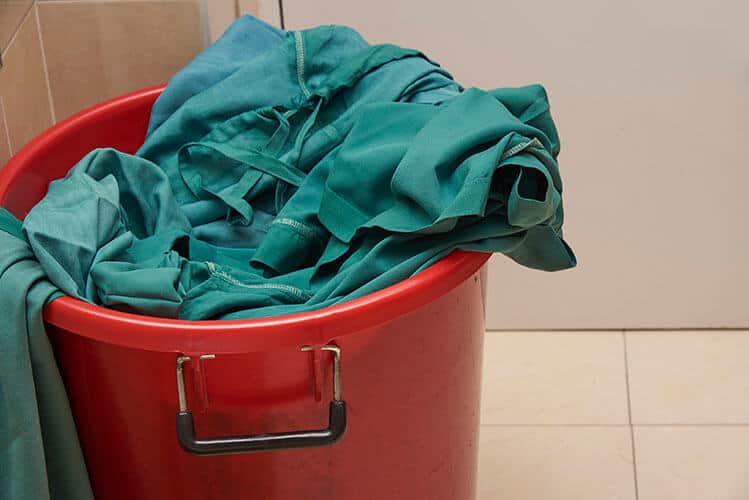 Double Washing
Unlike your normal clothes, dirty scrubs should be washed twice to assure cleaner scrubs. When you are ready to wash scrubs, keep in mind to turn inside out and this is how to keep scrubs from fading. 
Using the normal or usual settings with cold water and detergent, proceed to washing your scrubs. After this step, check the scrubs for any stains and make sure they are not present before proceeding to the next step. If stains are present during the next step which uses hot water can make the stain go deeper into the fabric making it more difficult to remove. 
The second and final washing step uses hot water, detergent, and color-safe bleach for proper disinfection.  Make sure that the washer is not crowded to allow thorough movement and washing of the clothes for proper cleaning and disinfection. 
Chlorine bleach has stronger disinfectant capability and is best used with white cotton scrubs. Other type of bleach is the oxygen-based bleach which products includes Clorox 2 and Oxi Clean. Does oxiclean kill bacteria? No, oxygen-based bleach such as oxiclean is not a highly effective disinfectant when used only on home laundry procedures.
How to Disinfect Laundry Without Bleach?
If you are wondering how to sanitize laundry without bleach, then look out for these alternatives. One type of disinfectant without bleach that you can use is pine sol disinfectant. This type of disinfectant can be remarkably effective when used together with hot or warm water temperature. If you are wondering how to disinfect laundry with pine sol, it just simply needs to be added on the beginning of the wash cycle. 
Another bleach-free alternative disinfectant is a phenolic disinfectant and the most common and popular brand that you can find is Lysol. Lysol or other brands of phenolic disinfectants can be added either to the laundry during the wash or rinse cycle as long as the water temperature is warm.
Stain Removal Ways
Here are some ways to remove the two most popular stains that is happening in the medical world. 
Blood stains are extremely popular in the hospital setting and it cannot be avoided. With blood stains, the first thing is to soak it in cold water. After this, use a strong laundry detergent and put it directly on the stain and soak it for at least 10 minutes and proceed to normal wash after. 
Aside from blood stains, you can also encounter liquid medicine stains. This can be treated by soaking the stained scrub to a mixture of cold water and oxygen-based bleach for not less than an hour and can stay as long as 7 hours.
Heat Up!
After proper washing, throw your scrubs into the dryer and pump up to the highest temperature with at least 30 minutes allotted time. The washer's highest temperature is enough to kill the remaining bacteria residue that was not removed during the washing step. 
If you want assurance, you can go ahead and iron your scrubs to completely eradicate bacteria. Make sure that you know how to iron scrubs to avoid damage to the fabric. After all these steps, store your scrubs in a clean space ready to be used for the upcoming shift. 
Never forget to take care of your scrub uniforms and making sure they are cleaned and disinfected in the proper way. With these tips, rest assured that you will have a clean medical scrub that you can use for your shift not worrying about bacteria and other contaminants that can be harmful not only to you but to all the people around you.