I remember about a decade and a half ago when I was at level one hundred in the nursing training college, we were asked to look for some of the best pharmacology flash cards. By then, I do not know what actually flashcards is. So I started asking myself what is pharmacology flashcard is and why the need for me to have one.
At the end of the day, I got to know what pharmacology flashcards are, why everyone nurse or student nurse needs to have one. I have also succeeded in discovering some of the best pharmacology flashcards which I used when I was in college and even after college.
Today, many nurses and student nurses use pharmacology flash cards. However, because of the large number of flashcards on the market today it's very difficult to finger out which one is the best. This is why in this article, I will be sharing with you what pharmacology flashcards are, why you need one as a nurse or a nursing student. I will also provide a list of 5 best pharmacology flashcards that can help you as a nurse or a student nurse.
That being said, you, first of all, have to understand that, as a nurse or a nursing student, one thing you need to have in-depth knowledge of is pharmacology – the study of drugs and their actions on the human body. Pharmacology requires every nurse and nursing student to understand both the pathophysiology of diseases and how drugs can prevent, treat or cure diseases. 
This is because of one of the key roles of nurses is the administration of medication to their patients. Depending on the setting in which you work as a nurse, you may end up administering different types of medicine countless time at work.
 And since is a very broad course on its own, every nurse must have full knowledge and understanding of the subject. The nurse needs to have the ability to learn, memorise and remember all the classes of drugs including their names, and this is where pharmacology flashcards come to play.
What Are Pharmacology Flash Cards?
Pharmacology flashcards, also known as nursing drug flashcards or drug cards for nursing students are small note cards containing information about drugs – which nurses or student nurses quickly glance through to take information about drugs when the need arises. When it comes to learning of drug classifications and side effects by nurses, pharma flashcards are some of the best materials to get the job done.
Best Pharmacology Flashcards For Nurses And Nursing Students  According To Review 
Below are 5 best Pharmacology flashcards for nursing students And nurses according to review. These nursing pharmacology flashcards are carefully selected based on excellent customer reviews. So we are confident that they will help you on how to memorize drugs fast and also boost your knowledge of drugs and their actions and side effects on the body.
1.

Mosby's  Pharmacology Memory Notecards – 5th Edition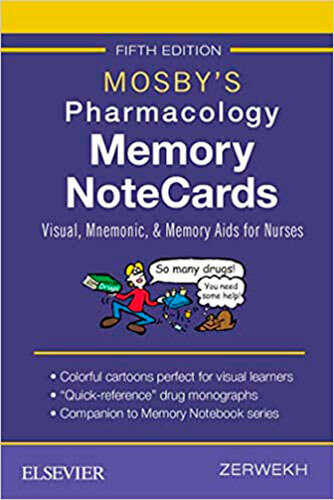 The Mosby's  Pharmacology Memory Notecards made its ways to the number on our list of the best pharmacology flashcards in this review. It is one of nursing drug cards with a list of drug classifications for nurses that is designed with Visual, Mnemonic, and Memory Aids for Nurses
This flashcard brings key topics in pharmacology to light in a flashy way by the use of illustrations, humour and mnemonics to enable you to recall difficult pharmacological concepts and information about drugs.
These pharmacology cards for nurses is systematically designed to cover vital nursing implications, side effects of drugs, life-threatening implications, including patient education skills.
The notecards are made of unique features such as colour cartoons, additional cards for medication safety,  mnemonics and time-tested memory aids, colored thumb tabs including thick pages and highlighted monographs.
Have over 100 full-panted cartoons to help the nurse when it comes to memorising and presentations of major pharmacological drugs. It has colourful monographs that provide room for you to easily identify nursing priorities on medications. The thick pages with spiral format serve as a durable and portable tool for clinical settings. The coloured thumb tabs located at the bottom of the page enable students to easily find topics without wasting time, and lastly, the Mnemonics and the memory aids help you memorised and remember every complex concept.
Features:
Over 100 full-colour cartoons
Additional cards for medication safety Mnemonics and other time-tested memory aids
Coloured thumb tabs
Thick pages
Coloured monographs
Pros:
Made with quality materials
Very affordable
Easy to memorise
Straight forward
Cons:
If you are looking for the best nursing pharmacology flashcards or thinking of how to pass pharmacology in nursing school, then these pharmacology cards for nurses is all you need. It is the best pharmacology flashcard for nursing students and professional nurses. Whether you are getting ready for a class test or Nclex-rn exam, this flash card can help.
2.

Nursing Pharmacology Mnemonics

 Without Nursing Pharmacology Mnemonics, our list of the best pharmacology flashcards is incomplete. 

These nursing pharmacology mnemonics is one of the best-proven memory Aids with simplified mnemonic tricks and tips to help nursing students sail through pharmacology in nursing School including their NCLEX Exam with an easy approach. The Nursing pharmacology mnemonics is one of the well-designed medication cards for nursing students with visual strategies to help students memorised and remember names of drugs and their physiologic effects. 

To have an effective result when using this nursing pharmacology mnemonics, you have to consider strategies such as time spent learning and reviewing the mnemonics, your education level, your experience level, proficiency,  including the language used to learn or review a mnemonic.

Features:
Mnemonic techniques
Unconventional method
227 clear pages
Pros:
Very cheap
Easy to memorise and remember
Very portable
Good for nurses and people outside nursing
Cons:
If you are a nurse, medicine or pharmacy student, and looking for the best nursing drug card template with the best strategy to memorise and remember drug and their effects on the human body, then this is one of the best books for you.
3.

Lange Pharmacology Flashcards (4th Edition)

 The Lange Pharmacology Flashcards is another great drug flashcard that can not be ignored when it comes to how to memorize pharmacy drugs. It's one of the most portable pharmacology notecards for the USMLE Step 1.

Being put together by some excellent past students of Yale University, the LANGE Pharmacology Flash Cards provides concise and full coverage of pharmacology.

The flashcards are made of 200 double-sided cards with each card covering specific conditions as well as a treatment drug, with key points and facts being highlighted or boldly. There are also clinical vignettes on the flip side of every card to helps students in the process of learning and answering questions. That's the vignettes features helps greatly in memorising and remembering a drug better.

The bolded vital information about each drug makes it very easy to memorise and remember easily. 

These features make this material a very vital tool for board review as well as coursework. It will help you learn the vital concept of drugs and how they can be related to the treatment of disease conditions. It's a well-designed card with great information.

Features:
Clinical vignettes
200 double-sided card
Hole-punches
Clear visual pages
Bolded vital information about each drug
Pros:
Very easy to memorise
Very portable
Contains more information about each drug
Very affordable; great value for money
Best for both nurses and nursing students
Cos:
Investing in this drug card template for nursing students is the best way to learn pharmacology for step 1 because it is regarded by users as one of the best pharmacology flashcards for nursing students. Get one for yourself.
4.

2021 Nursing Drug Handbook – Forty-First Edition

This list will be incomplete without the Forty-First Edition of the 2021 Nursing Drug Handbook above. In my opinion, if this is not the best nursing drug handbook, then it's one of the best medication guides for nurses and other health care clinicians.

This is the drug handbook for nurses I have personally use. I bought the thirty-first edition a few years back and it was a great book to fully depend on. It's been updated regularly to meet every new development that hits the drug industry. 

This particular edition; Forty-First Edition is an up to date, thoroughly reverse version that contains more than 3700 generic names as well as brand-name with a collection of drugs in an easy to learn format.

Having over 8,200 clinical updates with new and updated dosages of drugs and their indications, side effects, nursing interventions and patient education information, this book is the powerhouse of drugs. It's designed with a visual guide that contains about 450 images of commonly prescribed pills. 

As a real-time user and a living, walking testimony of this book, I can tell you that this is great research material. It's not only for nurses, pharmacists and health care providers but for everyone. It will help you to know exactly the doctor has prescribed for you to put in your system.

It tells you the colour, shape, size, the work of the drug and the adverse effects of the drug.

However, you have to understand that this is not a small book or flashcard, it's a big huge and it has because it contains comprehensive information about many different types of drugs.

Features:
Photo guide insert
More than 3,700 generic names
Collection of common drugs
Beautiful cover
Pros:
Very portable
Made with quality materials
Very comprehensive drug book
Easy to learn and understand
Ideal for everyone
Cons:
It's a bit huge compared to the flashcards on this list
A bit expensive
Looking for great pharmacology notes for nurses, nursing students or just for your use? Look no further, because this drug handbook for nurses is all you need.
5.

Pharm Phlash – Third Edition

 The Pharm Phlash – Third Edition is the last but not the least on our list. It presents a crucial concept in about 468 individuals flashcards with neatly color-coded tabs. This comprehensive nursing pharmacology also contains common abbreviations.

To those of you who want to have the upper hand over pharmacology and walk through pharmacology class successfully, this is one of the best pharmacology Flashcards you should consider buying because it will give you insight into pharmacological agents. The knowledge and understanding, it will give you will able to avoid medication errors, especially if you are already practising as a nurse.

These self-test pharmacology flashcards are comprehensive medication card templates for nursing students. It comes with what is called "keep in mind portion or section" to help you remember what to consider when giving particular medication.

Features: 
Crucial concepts
About 468 individuals flashcards
Neatly Color-coded tabs
Very Comprehensive
Contain Common abbreviations
Pros: 
Color-coded
Single flashcards
Alphabetical index
Comprehensive
Cons: 
The text can be heavy for some people
Get yourself prepare with pharmacology nursing flashcards and alleviate all fear before sitting for pharmacology exams as well as NCLEX-RN. It's one of the best nursing medication flash cards. Consider it.
A Word For The Road
Truth be told, pharmacology is not an easy course, especially if your are a nursing students and you have to study it together with other tough courses. It's not an easy road at all. That is the reason why some of us have used as many learning aids as we can to be able to sailed  through this course successfully on just one attempt.
I don't want you to write pharmacology, failed and resit for the second time. I don't think you want that too. That's why I have compelled this list to help you make it once and for all. Whether you are already a qualified nurse who just need a pharmacology flashcard to equip yourself with more pharmacological knowledge, or a nursing student looking for studying material to help do justice to pharmacology once and for all, the list above can help achieve that.
Conclusion
Now that you have it all; our list of the best pharmacology flashcards, it's your turn to make a bold decision. So you can do that right away. 
To my noble nursing students, study more, pay attention to detail and you see success.