Watches do more than tell time. In the case of nurses, they can also save lives. In fact, many nurses view watches right up there with stethoscopes and pulse oximeters as vital nursing instruments. When searching for the best watches for nurses, there are several factors and features to look for. To make matters worse, there are hundreds of different options all vying for your attention. Lucky for you, the options you're about to discover in the best nursing watch reviews below are without a doubt the best of the best.
With hours of on-the-job testing and several evenings spent scouring the Web, I've cut through all of the white noise to create the ultimate go-to guide for nurses in desperate need of a solid timepiece. Enjoy.
Best Nursing Watches Reviews
Casio Women's LRW200H-7BVCF Watch
The first watch on this list and definitely deserving of its spot, the Casio Women's LRW200H-7BVCF Watch is one of the most affordable and best nursing watches on the market.
The cute and popular all-white watch is made of comfortable waterproof resin and plastic materials, making it extremely durable and capable of withstanding all sorts of healthcare environments. If you're looking for a watch with second hand for nurses, you'll also be pleased to know this inexpensive yet well-made women's Casio has hour, minute, and second hands that are protected by a dial window made of protective Japanese quartz.
This fantastic little watch is also waterproof to a depth of 100 meters and has a bi-directional bezel with a handy date display. These features combined with its inexpensive price tag, quality materials, durable construction, and fresh all-white look make it overwhelmingly popular and arguably the best watch for nurses being made today.
Inexpensively priced for nurses of every budget;
Nice all-white construction is perfect for healthcare environments;
Cute multi-colored numbers;
Waterproof up to 100 meters;
Equipped with second hand and date window;
Very durable and accurate;
.Incredibly popular
White band can be tough to clean.
Conclusion
With pleasant good looks, a bevy of must-have features, and a price tag that would make any penny pincher blush, the Casio Women's LRW200H7BVCF Watch is hands down one of the best medical watches for nurses on the market. If you're looking for a quality wristwatch that works great and looks even better, look no further than this Casio.
Timex Weekender Small Watch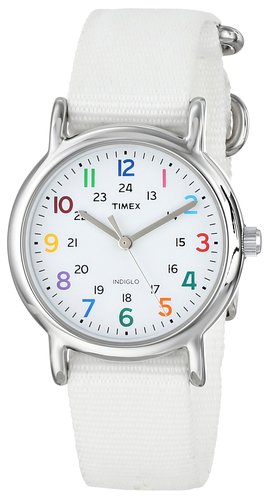 Another cute and equally capable watch perfect for nurses is the Timex Weekender Small Watch. This cute and capable analog watch features an all-white nylon band with buckle closure, scratch-resistant mineral dial window with white background and multi-colored numbers, plus a cool and useful indigo nightlight.
Other excellent nurse-friendly features include a 30-meter waterproof design and both 12- and 24-hour track for military time, making it not only one of the best wrist watches for nurses, but one of the best nurse watches with military time as well.
While slightly more expensive than the Casio above, the Timex Weekender Small Watch is still a great value and one heck of a cute nurses watch with all of the features you need.
12-hour and 24-hour display for military time;
Large numbers and easy-to-read display;
Waterproof;
Durable yet looks cute;
Indigo nightlight;
White nylon band requires frequent cleaning.
Conclusion
The Timex Weekender may not make the weekend arrive any faster, but it looks great, works even better, and will certainly make your work days a little bit easier. With a smart design and a myriad of thoughtful features every nurse can appreciate it's easy to see why so many women nurses consider the Weekender the best nurse watch out there.
Readeel Waterproof Sport Watch For Men & Women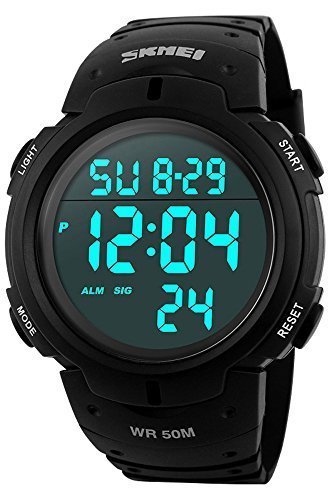 The Readeel Waterproof Sport Watch is unlike any of the other best watches for nurses discussed thus far. However, it's every bit as capable and even more functional, earning it a coveted top three spot on this list.
A favorite of any smart nurse, the all-black digital wristwatch is super inexpensive, designed to take a beating, and equipped with a laundry list of features not found on other good watches for nurses.
In addition to being 50M waterproof, the digital Readeel has a very bright LED display and backlight, auto date function, alarm, and stop watch. If it had a built-in stethoscope and pulse oximeter it would be the ultimate all-in-one nursing tool! Oh well, one can dream.
Since it's digital, the Readeel isn't really for anyone searching for watches with second hand for nursing. That being said, if you're interested in a durable digital watch with all of the bells and whistles for the price of a Cracker Jack toy, this may be the watch for you.
Quality design and construction;
Bright backlight;
Easy-to-see digital date and time;
Alarm and stop watch functions;
50M waterproof;
Very affordable.
Very functional but not the greatest looking watch on the list.
Conclusion
The Readeal Waterproof Sport Watch For Men & Women is an ideal option for nurses in search of an inexpensive digital watch that just plain works. If that sounds like you, go ahead and read the full review to learn more about this little digital gem of a nurse watch.
Casio Men's MRW200H-1BV Analog Japanese Quartz Black Watch
For all of you guys out there, very few watches can compete with the Casio Men's MRW200H-1BV Analog Japanese Quartz Black Watch.
Just like its white female counterpart, this Casio is one of the most popular watches for nurses around and for good reason. The MRW200H-1BV has a durable resin and ABS plastic construction, and it features a sleek reverse black background, big easy-to-read white numbers, day and date calendars, and precise quartz-movement hands for to the second times.
Contending for the "Best Watch for Nurses" title, this men's Casio is also designed with a protective dial crystal, luminous hour hands, and a non-click rotating bezel. Plus, it's waterproof up to a whopping 330 feet, so you can wear it to work during the week and scuba diving on the weekends. We can all dream, right?
The Casio Men's MRW200H-1BV knocks it out of the park in the price department as well. For less than the price of a fast food meal for two, you can arguably the best nurses watch on the market today. Talk about value!
Very durable and well-made;
Luminous hands for low light environments;
Large easy-to-read analog display;
Click-free rotating bezel;
Japanese quartz movement;
Waterproof up to 330 feet;
Excellent value.
No alarm or stop watch features;
Reports of malfunctioning date function.
Conclusion
If you're a male nurse in search of a great watch, the Casio Men's MRW200H-1BV may have your name all over it. It's solidly constructed , has an appealing all-black design, and offers many of the same features found on digital watches for nurses costing three times as much. At the very least, it's a great value definitely worth considering. Probably the best watch for male nurses.
Timex Men's #T49831 Expedition Rugged Core Field Watch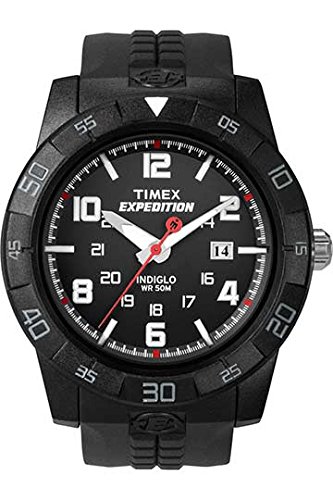 The Timex Men's Expedition Rugged Core Field Watch is strong, lightweight, comfortable, and ready for action in the field, making it one of the best watches for healthcare professionals who like to showcase their bold personality at work.
Looking for the best watches for male nurses? The black wristwatch features a handy date window, indiglo nightlight for viewing in low light environments, and is also waterproof up to 165 feet. Providing a bold, strong look, this Timex is more rugged looking than other military time watches for nurses. However, its resin construction, clean and easy-to-read display, and bright nightlight make it a solid choice for any male nurse.
As one of the best nursing watch options on the market, the Timex Men's Expedition Rugged Core Field Watch features a black band and dial with luminous hands, protective mineral crystal window, and reliable quartz movement. With a budget-friendly price tag as well, it certainly provides plenty of bang for the buck.
Durable construction;
Lightweight and comfortable;
Luminous hands and easy-to-read time display;
Bold, rugged good looks;
Date window and Arabic numeric bezel markers;
Reasonably priced.
Audible ticking second hand can be annoying to some.
Conclusion
If you're idea of the best nursing watch is one that is rugged, dependable, and won't let you down, the Timex Men's Expedition Rugged Core Field Watch is the one for you. It's waterproof, durable, comfortable, and has all of the features you need to reliably check the time at the beach or dimly lit patient rooms.
Prestige Medical 1740 Nurse Medical Lapel Watch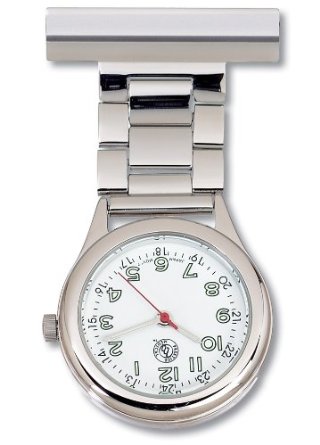 As a nurse, you likely wash your hands all of the time, making it difficult to keep your skin dry underneath a wristwatch. This is where the Prestige Medical 1740 Nurse Medical Lapel Watch truly shines.
The basic, no-nonsense lapel watch is made specifically for nurses and features a 12- and 24-hour numeric display for both standard and military time, quartz movement, easily sanitized chrome waterproof casing, and an indiglo backlight. The second hand is also red, allowing nurses to easily take breathing and pulse measurements.
In other words, unlike the other waterproof watches for nurses on this list, not only is it designed to easily clip to a lapel, but it has everything a nurse needs to keep track of time and perform a number of duties throughout his or her shift. With an inexpensive price tag to boot, it's arguably the best nurse watch you're going to find anywhere.
Designed specifically for nurses;
Easy to clean, sanitize, and keep dry;
Nice chrome finish;
Military time display;
Red second hand and backlit display;
Waterproof;
Well-priced.
Face display is could be larger for easier viewing.
Conclusion
Mens and womens nursing watches come in all shapes and sizes, but very few are as nurse-friendly as the Prestige Medical 1740 Nurse Medical Lapel Watch. Designed to easily clip to your lapel and allow you to take precise time measurements with ease, there's no better on-the-job timepiece than this quality lapel watch.
BestGrew Set of 3 Unisex Silicone Infection Control Nurses Lapel Watch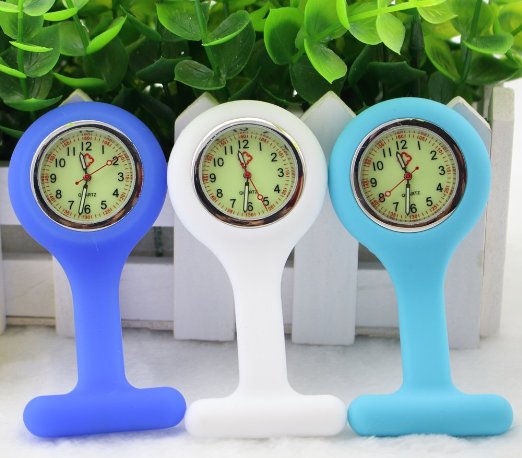 If you're keen on the idea of owning a lapel watch with a second hand for nurses but want something even more practical and inexpensive, say hello to the BestGrew Unisex Silicone Infection Control Nurses lapel Watch.
As one of the best watches for nurses, it features a super durable and easy to sanitize silicone watch cover, analog display, accurate quartz movement, glow in the dark backlight, and waterproof design. Best of all, you get not one but three with each package, so you never have to worry about losing it and ordering another.
When you factor in the set's low price, it's easy to see why so many nurses consider this BestGrew the best watch for a nurse on the market today. Just attach one to your lanyard or lapel each morning and you are good to go!
Inexpensive and a great value;
Multiple units allow for carefree use;
Comfortable, durable, and easy-to-sanitize silicone cover;
Quartz movement;
Colorful watch wrap options child patients love;
Includes hour, minute, and second hands.
Small watch face can be hard to read at times.
Conclusion
Cute, colorful, and designed specifically for nurses, the BestGrew Unisex Silicone Infection Control Nurses Lapel Watch is an excellent choice for both men and women nurses. With all of the features you need in a quality nurse watch and coming with three in each set, don't be surprised if this BestGrew becomes your new best friend.
Timex Easy Reader Watch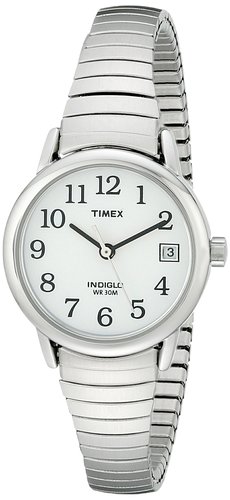 Back to wristwatches and taking the style factor up a notch, the Timex Easy Rider Watch is a longstanding classic that works well and looks even better both in and out of the workplace.
This popular Timex watch features a stainless steel expansion band, making the watch ideal for nurses who constantly wash their hands. The flexible watch is also equipped with a white dial with large easy-to-read black numbers, crystal dial window, handy date display, and one-click indiglo nightlight, and analog quartz movement.
Like other nursing watches for women on this list, the Timex Easy Rider is also water-resistant. However, according to some users, you shouldn't wear it swimming or in the shower. Luckily, it's easy to take off and reasonably priced, so you don't have to soak it or sacrifice grocery money if you do.
On the downside, it costs slightly more and lacks a few features provided by nursing watches with military time. That being said, if looks are just as important to you as function, don't overlook this classy Timex.
Timeless design is classy and stylish;
Expandable band for easy handwashing;
Quartz movement;
Durable stainless steel band;
Easy-to-read display.
Not ideal for nurses with large wrists;
No military time display.
Conclusion
It may lack a few features that keep it from being the absolute best watch for nurses, but he Timex Easy Rider Watch is a timeless good looking option for male and female nurses alike. It's reliable, accurate, solidly built, and features a handy expansion band not found on many other watches, making it a popular option for nurses everywhere.
Fitbit Blaze Smart Fitness Watch
Many of today's smart nurses consider the Fitbit Blaze Smart Fitness Watch the best nursing watch ever made. It's a bold statement, but this Fitbit backs it up with a contemporary design, cutting-edge features, and unsurpassed performance.
Unlike typical watches for medical professionals, this smart Fitbit does way more than tell time. In fact, it can track your steps, the distance you've walked, floors you've climbed, and calories you've burned each day at work or while at play.
Speaking of work, the smart watch can also be used to monitor heart rates and even track a patient's sleep. With other neat features like GPS connectivity, FitStar, and text or calendar notification capabilities, it's undeniably one of if not the best nurse watch in the business.
Unfortunately, you get what you pay for, so you can expect to pay more for all of these features.
Sleek and contemporary good looks;
Cutting-edge features not found on other watches;
Comfortable adjustable resin band;
Unique touchscreen dial;
PurePulse heartrate monitoring;
GPS enabled.
More expensive than many other nursing watches.
Conclusion
If you consider yourself a modern guy or gal and want a watch with contemporary good looks and state-of-the-art features, the Fitbit Blaze Smart Fitness Watch is definitely for you. While it costs significantly more than other watches on this list, chances are you'll be too enamored with its performance to care about its price.
Motorola Moto 360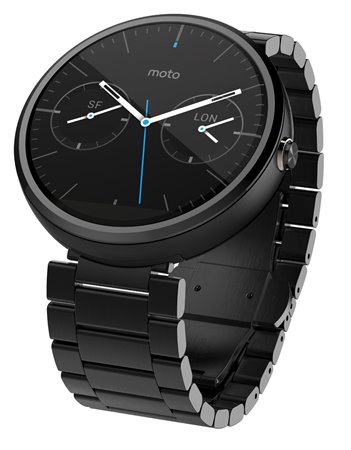 Going out with a bang and possibly one of the best watches for nursing students and nurses on the market today, the Motorola Moto 360 is a fashionable contemporary timepiece with modern features any nurse could ask for.
The super popular Moto 360 is finely crafted of genuine leather, stainless steel, and premium Corning Gorilla glass. As far as features are concerned, it's equipped with an LCD touchscreen with a Bluetooth 4.0 interface, rechargeable battery, dual microphones, heart rate monitor, activity tracker, alert notifications, and more.
Of course, it also tells time as well. In fact, it even has two additional dials for London and San Francisco time. Talk about cool. All in all, it's less than the Fitbit but every bit as good.
Quality craftsmanship;
Touchscreen;
Dual voice response microphones;
Android compatible;
Update notification;
Heart and health mo itors;
Sleek and modern good looks;
Many different colors and styles to choose from.
Limited 12-hour battery life.
Conclusion
Overall, the Motorola Moto 360 is a wonderful smart watch with modern good looks and even more functionality. Whether you're looking for the best watches for nurses or simply want a quality nursing watch with military time and other useful features, the Moto 360 is hard to beat.
Features to Consider When Buying Best Nurse Watch
As you can tell by now, there are plenty of features to consider when shopping for the best nursing watch for you. Here's a look at some of these features to help you pick the very best:
Water Resistance
Nurses can wash their hands dozens or even hundreds of times each day. Therefore, water-resistance is a key feature to consider when searching for a quality nursing watch. The best nurse watches are generally waterproof up to at least 50 feet and can be safely washed time and time again.
Military Time Format
Since many nurses must fill out charts in military time, having a military time feature is another key consideration when best nurse watch shopping. Some excellent watches don't have this feature, and others do. So, you should consider your needs and whether or not it's important to you.
Hand Showing Seconds
Many of the best watches for nurses also have a dedicated second hand, which is a must-have in many clinical environments. Needless to say, if you're looking for the best watch for nurses, you should pick a watch with this key feature.
Type of Watch: Lapel or Wrist
Nurses commonly disagree on whether a wrist or lapel watch is best. Some nurses consider lapel watches the best nurse watches for women and men because they can easily be clipped to a lapel or lanyard and also help with infection control. Others, however, prefer wristwatches because of their convenience. You simply have to decide which is more important to you.
Design
From smart watches and modern timepieces to lapel watches and classic Casios, there are several different watch designs available for nurses to choose from. Whether you prefer a sleek modern design or a more traditional style, you can rest assured there is a nurse watch out there with the right style for you.
Material
The material of a watch is important as well. Nurses are liable for ensuring they provide their patients with a sanitary germ-free environment. Therefore, you should select a watch that can be easily cleaned. Protective mineral crystal is also a quality material used for the time windows of many of the best nurse watches.
Backlight
As a nurse, a watch with a backlight is a must for counting seconds or seeing the time in a patient's room when lights are off. Luckily, most of today's quality nurse watches have indiglo backlights or luminescent backgrounds allowing you to clearly see in the lowest of light conditions.
    Compatibility with Smartphone
Let's face it, smartphones are taking over the world. We do more and more with our smartphones each day as the number of apps and all that they can do continue to explode into the millions. If you're one of the growing number of people who use their phone for everything from shopping to checking your temperature, smartphone compatibility is another feature definitely worth considering.
Replaceable Band and Its comfort
Since you're going to be wearing your nurses watch for hours on end, it's important for it to be comfortable on your wrist or pinned to your lapel. When it comes to watch comfort, the weight of the watch and its band play a large role. The band should be made of quality materials that feel good on your wrist and the watch should be lightweight to avoid fatigue. Since nurses are exposed to all manner of things and wash their hands often, you should consider a watch with a replaceable band as well.
Base Plate Size
Similar to the weight of a watch, the size of its base plate can also play a significant role in its overall comfort. Although there are some excellent watches out there with larger base plates, the general rule of thumb is the smaller the better.
Ease of Cleaning
If you're shopping for the best watch for nursing, you should definitely pick one that's easy to clean. Ultimately, you want a watch that can be cleaned thoroughly and sanitized in just a few seconds when needed. Therefore, you should pick a water-resistant watch with a smooth, band if possible.
Ease of Battery Replacement
Traditional watch batteries tend to last a long time and don't need frequently replaced. Smart watches, on the other hand, must usually be charged at least once a day. Regardless of which type of watch you choose, the battery should be easy to access and replace in order to keep you on time and up to date.
Budget
Spending hundreds or thousands of dollars on a diamond embellished nurse watch is just plain silly. On the other end of the spectrum, you don't want to buy a cheap watch that's not up to the challenge either. Having said that, if you're on a tight budget and shopping for the best watch for nurses, you'll be happy to know there are several great options that won't break the bank.
Best Nursing Watch FAQ
Should I choose a digital or analog model?
Nurses have differing opinions on whether digital or analog watches are the best watches for nurses, and the choice is often a matter of preference. Analog watches with second hands are useful for counting seconds and they're usually more durable as well. Digital watches, on the other hand, are usually equipped with smart technology and offer cutting-edge features not found on their analog counterparts.
Is a wristwatch or lapel watch better for a nurse?
Many nurses prefer lapel watches because they're easier to keep clean throughout the day. While wristwatches are easier to use and typically come with more features, keeping them clean and dry throughout the course of a 12-hour shift is easier said than done. With thousands of positive reviews for both types of watches, you can't go wrong with either one as long as you pick a quality model like the ones mentioned above.
What is quartz movement?
Watches with quartz movement utilize batteries to send electrical currents to tiny quartz crystals, which creates vibrations, powers their motors, and moves their hands. If you're looking for the best nurse watch, chances are it uses quartz movement for both accuracy and ease of maintenance as occasional battery replacements are all that is needed.
How much should I spend for a nurse watch?
Many nurses feel they have to spend upwards of $100 or more for the best nursing watch, but there are many great options available for considerably less. Just make sure to factor a watch's quality, features, and durability when making a buying decision.
Making The Decision
If you've grabbed a cup of coffee and managed to make it this far, you probably now know more about nurse watches than most of your colleagues and can confidently pick the best one for you.
From cheap nurse watches to more expensive models, there's a bevy of options available with several different features and designs. While some feel the best watch for nurses is one with smart technology and dozens of features, others prefer less costly waterproof models with quartz movement and fewer features.
Since each nurse has their own style, budget, and needs, there really is no cut and dry winner. As a nurse, time is of the essence. So, consider these factors, read the reviews above one more time if needed, and pick out a great nurse watch today! Choose only the best nursing watches!