Being a nurse is tough enough. Between anxious patients, emotionally distraught families, and the complexities of working with demanding doctors and dozens of co-workers each day, the last thing you need is sore feet halfway through your shift! In the in-depth nursing shoes reviews below, you'll find all of the info you need to find the best nursing shoes for you and work comfortably each and every shift.
Nurses can spend upwards of 12 hours a day walking on hard tile surfaces. Having the wrong pair of shoes will not only leave you with achy feet, but may lead to long-term leg and back pain as well. Fortunately, I've rounded up the best shoes for nurses, all of which are designed to address the needs of nurses who spend hours on their feet each day.
Our Top 10 Recommended Nursing Shoes For Women
Model
Review
Dansko Women's Professional Clog


Click Here for Pricing, Pictures and Reviews on Amazon.com

Our Review
Alegria Women's Paloma Flat


Click Here for Pricing, Pictures and Reviews on Amazon.com

Our Review
Timberland PRO Women's Renova Professional Slip-On


Click Here for Pricing, Pictures and Reviews on Amazon.com

Our Review
Nurse Mates Women's Bryar


Click Here for Pricing, Pictures and Reviews on Amazon.com

Our Review
AnyWear Women's Exact Healthcare & Food Service Shoe


Click Here for Pricing, Pictures and Reviews on Amazon.com

Our Review
Alegria Women's Debra Slip-On


Click Here for Pricing, Pictures and Reviews on Amazon.com

Our Review
Cherokee Women's Peacock Work Shoe


Click Here for Pricing, Pictures and Reviews on Amazon.com

Our Review
Skechers Sport Women's Premium-Premix Slip-On Sneaker


Click Here for Pricing, Pictures and Reviews on Amazon.com

Our Review
Klogs USA Women's Mission Mule


Click Here for Pricing, Pictures and Reviews on Amazon.com

Our Review
Dickies Uniforms Women's Conquest Axiom Leather Clog


Click Here for Pricing, Pictures and Reviews on Amazon.com

Our Review
Our Top 5 Recommended Shoes For Male Nurses
What Are The Best Shoes For Nurses?
As a long-time RN with more than 20 years in the field, I often get asked what are the best nursing shoes. The truth is, buying nursing shoes is nothing like buying running shoes or a cute pair of sandals. In fact, there are a number of factors to consider in order to pick the best nurse shoes for you, including:
Size and Overall Comfort
When shopping for the best shoes for nursing, the size and overall comfort of the shoe is by far the most important requirement. Since your feet can swell after being on them all day, make sure to measure them at the end of the day or after your shift to get an accurate idea of the right shoe size to buy. Since comfort trumps all when it comes to nursing shoes, when in doubt always go up a size. Your feet will thank you.
Arch Support and Arch Comfort
Like people, feet vary. Some people have high and short arches, while some have short and long arches. Some good shoes for nurses will specify whether they have a low or high arch, so keep this in mind when shopping for the best nursing shoes for you.
Upper Material Quality
The upper portion of the nursing shoes you choose should be made of a durable, easy-to-clean material. Make sure to avoid materials like natural suede, which can absorb liquids and prove tough to clean. The Sketchers Sport Women's Premium-Premix Slip-On Sneaker is an excellent example of a women's nursing shoe with a well-constructed upper.
Sole Grip Material Quality
As a nurse, you need a shoe with excellent grip and a durable sole that's easy to clean. Since most nurses walk on tile all day long, rubber soles are usually the best option for comfort and traction. For men, the Merrell Men's Jungle Moc Pro Grip Slip-Resistant Work Shoe has one of the best soles on the market today.
Style and Color
Contrary to popular belief, nurse shoes come in a wide variety of style and color options. Although many hospitals and healthcare environments have strict regulations regarding acceptable footwear, there's an array of available options nonetheless. From the super comfortable Dansko Women's Professional Clog to the extra supportive Sketchers for Work Men's 76690 Keystone Sneaker, you're sure to find the right nursing shoes for you and your place of work.
Best Nursing Shoes For Women Reviews
Best Shoes For Male Nurses Reviews
Male nurses make up a growing number of the nursing workforce, but they are generally left out in the cold when the topic of nursing apparel and equipment arises. Male nurses do the same jobs and work the same strenuous hours as female nurses, so they deserve a list of best male nursing shoes. Don't you think? For all you guy nurses out there, here's the rundown on five of the best mens nursing shoes on the market today.
Popular Nurse Shoes Brands
Sanita
Sanita makes clogs for nurses and others who work on their feet for hours on end, making them one of the most popular nurse shoes brands. Sanita's clogs are extremely comfortable and come in a variety of design and color options. Therefore, regardless of where you shop online, there is sure to be the perfect pair of Sanitas for you.
Dansko
Dansko began as a small shoe shop in Denmark and has exploded into one of today's top nursing shoe brands. While they can take some getting used to, Dansko's shoes are very comfortable and provide excellent arch support. Each Dansko is also handmade, providing their growing fan base with unparalleled quality. Thanks to their reputation for comfort and quality, Dansko shoes are mentioned more than any other brand in nearly all shoes for nurses reviews.
Alegria
Alegria is another one of the great nurse shoe brands with many different footwear options for nurses to choose from. That being said, Alegria's Women's Debra Professional Slip-On is by far one of the brand's best nursing shoes. It features a secure-fitting elastic instep, stain-resistant leather upper, breathable leather covered insole, slip-resistant rocker-style outsole, cork memory foam foot bed, and more. No wonder more and more women nurses are discovering the Alegria brand.
Nurse Mates
As their name suggests, Nurse Mates shoes are designed specifically with nurses in mind. Therefore, they provide the support and comfort nurses need to get through long 12-hour shifts day in and day out. With features like slip-resistant outsoles, leather-wrapped steel shank uppers, slip-on styling, and more, Nurse Mates shoes have become one of today's most popular nursing shoe options. With hundreds and even thousands of positive nursing shoes reviews, you can't go wrong with Nurse Mates on your feet.
Cherokee
Cherokee makes good shoes for nurses that are wonderfully comfortable, easy to clean, and easier to slip on. With manmade slip-resistant soles, cushy removable insoles with vent channels, and perfectly sloped heels for all-day comfort and support, it's hard not to like Cherokee's well-made and affordably priced nursing shoes.
Timberland
Timberland makes some of the best and most comfortable nursing shoes around. One of the brand's most popular nursing shoes is the Renova. With anti-fatigue technology, a comfortable design, and many different colors and styles to choose from, the Timberland Renova is tough to beat.
Easy Spirit
Another great women's nursing shoe brand is Easy Spirit. Known for making fantastic ladies walking shoes and footwear for women who spend a substantial amount of time on their feet, Easy Spirit shoes are super comfortable and durable. Despite their quality, however, Easy Spirits are surprisingly affordable. Plus, they come in a wide variety of colors and styles.
Asics
Asics is well-known for making some of the best running shoes on the market today. However, the popular brand also makes excellent shoes for nurses as well. One such shoe is the Asics GEL-Foundation Workplace Sneaker. Made of quality materials and featuring a durable AHAR outsole, the women's work shoe is engineered to keep your feet cool and comfy all day or night long.
Crocs
When it comes to the best shoes for nurses, Crocs rarely get mentioned. Nonetheless, the brand makes super comfortable shoes that won't break the bank. Although they're not ideal or allowed in some healthcare environments, Crocs are a solid option for any comfort-seeking nurse to consider.
What Kind of Shoes Do Nurses Wear?
There are literally thousands of shoe options for today's nurses to choose from, but all of these shoes fall into one of four categories: clogs, crocs, tennis or athletic shoes, and sneakers.
While boatloads of shoes fit into each of these categories, not every shoe or type of shoe is for every nurse as some have different needs and preferences than others. Hopefully this guide will illuminate the differences between each type of nursing shoe and help you find the best nursing shoes for you.
Clogs
Clogs are especially popular amongst nurses for their comfort, support, and safety. Most clogs feature a closed toe and open back. However, many of the best nursing clogs, such as the Dansko Women's Professional Clog, have closed backs or straps like Mary Janes in order to prevent slipping and increase protection.
The best clogs for nurses are also equipped with helpful work-related features like slip-resistant soles, stain-resistant and easy-to-clean leather uppers, and reinforced toe guards for added protection. Quality materials and construction is a hallmark of any good nursing clog as they are generally made of leather, suede, or resin.
Aside from the Dansko mentioned above, which many nursing shoes reviews have deemed the best nurse clogs ever made, another wonderful nurse clog is the Klogs USA Women's Mission Mule. As one of the best nurse clogs, it's lightweight, durable, and stain-resistant. With a cushioned sole and great arch support as well, the Mission Mule is by far one of the most comfortable nursing clogs being made today.
You can scour the Web reading through endless nursing shoes reviews in search of a great nursing clog. However, all of the research has already been done for you. Simply scroll back up towards the top of this page and you'll be able to learn a little about today's best clogs and what they have to offer.
Crocs
Crocs certainly aren't the best walking shoes for nurses, but they are one of the most comfortable. Crocs are one-of-a-kind and generally made with an ultra-comfortable solid foam resin that feels like you're walking on a cloud.
The front of Crocs feature semi-closed fronts with vented air portals for maximum breathability, while the backs are often open or feature a rear strap like clogs. Specialized clogs designed for the nursing community, however, may come without these vents and have a full back for greater protection and stability.
Thanks to their one-piece molded resin design, Crocs are able to easily flex and conform to any foot, providing wearers with maximum comfort. In addition to comfort, many podiatrists have listed Crocs as having a number of medical benefits.
Nonetheless, Crocs may not be suitable or permitted for nurses to wear in some healthcare facilities. As footwear requirements vary greatly from one hospital or doctor's office to another, you may not be able to enjoy the comfort of Crocs at your workplace.
If traditional Crocs aren't allowed at your place of work but you still want the comfort and durability of the Crocs brand, you can't go wrong with the Crocs Women's Alaine Nurse Shoe. It features an understated and simple all-white design, durable and easy-to-clean synthetic upper, and rubber outer sole specifically designed to provide traction on the wettest of tile floors.
If you're able to go with a more traditional Croc, the brand's Women's Mercy Work Clog is an excellent option. It has thousands of glowing reviews and is one of the most comfortable nursing shoes you're going to find anywhere.
Tennis & Athletic Shoes
Tennis, running, and other athletic shoes are often good choices for nurses due to the balance, comfort, and performance they provide.
Most healthcare facilities have hard tile floors that are easy to clean and keep germ-free. Unfortunately, they can also be hard on your feet. Since the best tennis shoes for nurses are designed for people whose feet are constantly contacting hard surfaces such as tennis courts, this makes them an ideal footwear option for nurses.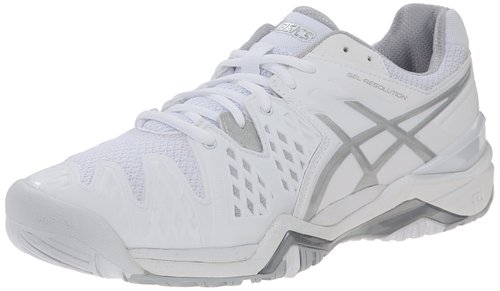 In addition to providing superior shock absorption, the best nursing tennis shoes are lightweight and designed with comfort, stability, and flexibility in mind. All of these factors reduce the stress associated with standing and walking for long periods of time.
The best tennis shoe for nurses will also provide convenient and comfort-inducing features like memory foam insoles, durable outer soles with superior grip, padded laceless uppers, ankle support, and more.
There are quite a few tennis shoes for women reviews that highlight some excellent shoes for nursing, but the K-Swiss Women's Tubes Run 100 Athletic Shoe is hands down one of the best shoes for nurse around. It has a breathable and easy-to-clean mesh synthetic leather upper, durable and traction-grabbing rubber outsole, padded collar, and patented Tube technology for premium comfort and shock absorption. It's also available in a myriad of awesome looking color combinations.
If the K-Swiss doesn't catch your eye, you'll be happy to know there are plenty of other great tennis and athletic shoes for nurses out there to choose from as well.
Sneakers
Last but not least, sneakers are an excellent option for nurses who spend a considerable amount of time on their feet. Casual shoes or sneakers include walking shoes and other similar types of shoes with flat rubber outer soles that grip well and compliment a person's natural walking gait.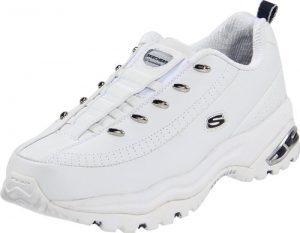 While casual sneakers are excellent for walking, only the best nursing sneakers are designed for walking long distances and standing for long periods of time. Therefore, if you want to find the best sneakers for nursing, it's important to understand the purpose behind the design of the sneaker before you click on the buy button.
Aside from their all-day comfort, which is what sneakers are famous for, the best sneakers for nurses also look amazing and come in a variety of trendy colors and designs, ensuring you feel and look great.
As you can see, good shoes for nurses come in all types, shapes, and sizes. So, think about your needs and what you like, read the in-depth nursing shoes reviews on this site, and pick out a fantastic pair of nursing shoes today!
Tips on Selecting the Most Comfortable Nursing Shoes For You
There's nothing worse than an uncomfortable pair of shoes, especially when you're on your feet for 10+ hours a day. When shopping for good nursing shoes, however, you're going to run across a wide variety of styles and designs, making it difficult to figure out which are the best shoes for nurses and which ones should be left on the shelf.
To help you in your search for the best nursing shoes with the comfort and support you need, here's a list of important tips and factors to keep in mind throughout your shoe hunt:
Shoe Type
Running around on hard tile floors all day can take its toll on your feet, especially if you're wearing the wrong footwear. Let's face it, flats and boat shoes aren't good shoes for nurses. The most comfortable nurse shoes are specifically designed for walking and standing all day, so make sure to keep this in mind and shop accordingly.
Size, Weight, and Comfort
The most comfortable nursing shoes are usually lightweight to help avoid daily fatigue and discomfort. Clunky and heavy shoes can wear on your body throughout the course of the day, affecting your comfort and overall mood. Therefore, the best nursing shoes are lightweight and designed to provide the perfect combination of support and comfort for hours on end, keeping both you and your feet happy each day.
Material: Sole Grip & Upper Material Quality
The materials used in the construction of a nursing shoe play an important role in its overall quality and comfort. The best and most popular nursing shoes typically have leather uppers for maximum durability, flexibility, and breathability. Meanwhile, the most comfy nurse shoes tend to have soles made out rubber or resin for improved grip and slip-resistance.
Arch Support, Stability & Overall Balance
Since nurses generally work long shifts, good nurse shoes should provide ample support and stability for improved comfort and health. The most comfortable shoes for nurses provide excellent ankle, leg, and back support during work shifts, helping them avoid pain in all of these areas.
Factors like shoe shape, construction, materials, and heel height can make a huge difference in your on-the-job comfort, so make sure to consider these factors when finding a shoe that works best for you.
Slip Resistance
It may seem obvious, but it's worth noting that slip resistance is a key factor found in all of the best footwear for nurses. The combination of tile floors and exposure to liquids is a dangerous one for unprepared nurses, so don't forget about slip resistance when shopping for comfy shoes for nurses. After all, nothing is more uncomfortable than slipping and sliding all over the place!
Breathability & Ventilation
Wearing the same pair of shoes for 12+ hours a day can result in some very hot, sweaty, and smelly feet. Therefore, good shoes for nursing should be well-ventilated, allowing your feet to stay cool and breathe throughout each and every shift. All of the best manufacturers of comfort shoes for nurses take this into consideration, and so should you if you want to avoid the discomfort and embarrassment of sweaty, smelly feet.
Style, Shape & Color
Contrary to popular belief, nursing shoe styles extend far beyond white sneakers. In fact, today's nursing shoes come in a bevy of different colors, shapes, and styles. From Crocs and clogs to running shoes and sneakers, you can find nurses wearing all types of shoes to fit their own unique style and comfort needs.
Although white is traditionally the standard color for nursing footwear, many of today's healthcare environments allow for a variety of shoe colors and styles. So, if you're looking for cool nursing shoes, you're sure to find the right balance of comfort and style for you.
Your Budget and Warranty
The most comfortable nursing shoes vary in costs depending on their materials, design, features, and brand name. Although many of the best shoes for nurses may offer some benefits that demand a higher price tag, there are plenty of excellent, comfy shoes out there that won't break the bank.
That being said, don't be afraid to spend a little more for a great pair of nursing shoes. Since you're going to be wearing them several days a week for hours on end, you'll want the most comfortable and durable shoes your budget will afford. Some of the best nursing shoes also offer warranties or satisfaction guarantees, so you may want to also keep this in mind if you're not sold on a particular pair.
Making The Decision
If you've kept yourself well-hydrated and managed to make it this far, you should give yourself a huge pat on the back and feel better about your odds of picking out an excellent pair of nursing shoes. From clogs and casual sneakers to Crocs and cheap nursing shoes, you've learned about all of the different types of nursing footwear options as well as the best of the best in each group. All you have to do now is pick out a pair.
Whether you're fresh out of nursing school and eager to fit right in with a pair of Nurse Mates or a seasoned pro looking for the comfort of a trusty Dansko clog, you've read the reviews above and now know which models are the very best. So, consider your needs, click the buy button, and get ready to enjoy comfortable and pain-free feet starting today!