As a nurse who loves and believes in the use of modern technology to make work easier and faster, often time, I get asked of the best laptop for nursing students. 
I must first of all state that one of the most valuable learning and teaching tool for nursing students and teachers are laptops. Laptop as a teaching and a learning tool give students and teachers from all fields of study including nursing the opportunity and the flexibility to get their teaching and learning done easily and efficiently.  
Several advantages come with the use of laptops in the world of teaching and learning. Some of these advantages including facilitating research works, effective communication, work efficiency; Accessibility, and Connectivity, facilitating group works, etc. We will look at some of these advantages in the course. For now, let's dive into our list of the best laptop for nursing students. Not only are these laptops the best in terms of quality, but they also come at a very affordable price.
Let's now take a look at our list of the best laptop for nursing students.
Top 6 Best Laptops for Nursing Students
1.

HP Pavilion x 360

The HP Pavilion × 360 is two in one; thus, it can be easily Converted from Laptop to tablet. It's produced by the most famous brand in the industry, HP. This amazing flashy laptop comes with 14-inch FHD IPS Touch (1920 x 1080), micro-edge, WLED-backlit, multitouch-enabled, 

It comes with 8 GB RAM, 512GB SSD, 1GHz Intel Core i5-1035G1 as its CPU, and a very powerful 10th generation Intel processor. 

The HP Pavilion × 360 comes with Lithium-ion batteries that have about 10 – 12hours lifespan when fully charge.

Features: 
14 inches HD touch screen
Intel Core i5 with 8 HB DDR4 RAM with 512 GB SSD Storage
Strong lithium-ion batteries
2-in-1 design; can be easily converted to a tablet
Pros: 
High quality
Very portable and durable
Cons: 
This one of the best laptops you can invest in as a student nurse when it comes to academic works.
2.

2020 Lenovo Flex 14

The 2020 Lenovo Flex 14 is a well-designed 2-in-1 14 FHD that comes with a 360°c flip and fold convertible body with (1920×1080) IPS 250nits Glossy Display touchable screen. This amazing portable and affordable laptop for students' academic works; Browning through the Internet, doing remote work and students and for online teaching and learning. 

It comes with 4GB DDR4-3200 SDRAM; 256GB SSD M.2 2242 PCIe NVMe with 720p HD webcam & 2x including Array Microphones. But without an Optical drive 

The 2020 Lenovo is ideal for teaches, Student nurses, nurses and other medical, Small Business, distance teaching and learning, Online classes, Google Classroom, and zoom meetings. 

This Windows 10 Home in S mode, English; Graphite Grey 

Features: 
Operating System is Windows 10 S
CPU Manufacturer is AMD
Standing screen display size 14 Inches
4 GB RAM
360° flip and fold design
Authorized I puzzle bundle
Power delivery with a display port
4 in 1 card reader
A classic headphone
Adaptor with 3 times supper speed USB 3.0 ports
Pros: 
Very affordable; good value for money
Very portable, fashionable, and modern
Cons: 
This Lenovo brand laptop is great features and design and it best for any nursing student on a budget who wants a solid laptop! It's easy to use and very fast. It's a light-weighted, portable laptop that works well for students.
3.

Apple MacBook Air 13.3

This one is for Apple products lovers. With long-lasting battery life, this Apple MacBook is one of the best laptops for college nursing students. It's thin, very light, and portable. The Apple MacBook Air 13.3 features an amazing Retina display, a classic Keyboard, a touch ID, and core 2 duo processors. The above features make the Apple MacBook Air 13.3 the best laptop for nursing students. 

Features: 
Brand is Apple
CPU Manufacturer is Intel
The size of the display screen is 13.3
The RAM is 8 GB
The processor is core 2 duo
It's grey in colour
An amazing Retina display with True Tone
Pros:
It's Very portable
It looks fashionable and modern
Cons:
It's expensive
The storage space is not huge
This apple production is one of the best laptops for student nurses. To know more about this laptop and what real time users are saying, click on the amazon link above.
4.

2021 HP Pavilion 15.6 Inch

HP Pavilion 15.6 Inch is one of the best computers for nursing students. It comes with 16GB DDR4 RAM for multitasking, enough high-bandwidth RAM that enables the smooth running of many applications at once. 

It upgraded 2TB hard drive and SSD provides a lot of storage space for storing big files. This helps students and teachers to store important information and learning materials in the form of digital data for easy access. This upgraded version of the HP Pavilion is one of the best laptops for teachers, students, and businesses. 

The HP Pavilion is core i5 – 1035G1 with a 15.6 touchable screen that has a resolution of 1920 x 1080 Pixels, including a webcam, Bluetooth, and a powerful camera. 

Features:
Quad-Core i5-1035G1 Intel Core i5-1035G1
Is window 10
A touchable screen
1920×1080 screen resolution
A RAM of 16GB DDR4 memory
Inbuilt 720p camera
Pros: 
High quality
Large storage space
Cons: 
5.

The 2021 Dell Inspiron
The 2021 Dell Inspiron 15 5000 Series is the latest 5502 Laptop with a 15.6″ Full HD display screen size. Non-touchscreen, 1080P Display with 1920 x 1080 Screen Resolution. 
The 2021 Dell Inspiron comes with the 11th Generation Intel Core i3-1115G4 Processor, 8GB RAM, 256GB SSD, and Backlit Keyboard with Wi-Fi. It's Windows 10 Home with KKE Mousepad and it's Silver in colour. 
The 2021 Dell Inspiron has an inbuilt MaxxAudio Pro with Stereo Speakers, Built-in HD Webcam with Microphone with Wireless-AX Wi-Fi 6, and Bluetooth Combo for Wireless Connectivity 
Features 
CPU is 11th Gen Intel Core i3-1115G4 Dual-Core 3.0GHz Processor
A storage space that is Up to 32GB DDR4 RAM
1TB PCIe NVMe M.2 solid Hard Drive
Windows 10 Home 64-bit Operating System
15.6″ Full HD Anti-glare LED-backlit Display
1920 x 1080 Screen Resolution
Pros: 
Very affordable
Very portable and nice looking
Cons: 
The 2021 Dell Inspiron is a great laptop for student nurses with great value for money.
6.

Acer Swift 3

Acer is one of the best computers for nursing schools. The Acer Swift 3 is a very Thin and Light Laptop with a fingerprint reader. This fashionable nursing school laptop comes with 8GB RAM. 

This Acer Swift 3 have a 512GB PCIe SSD hard drive with 14 inches display screen IPS LED-backlit FHD with (1920 x 1080) screen resolution  

It has enough high RAM which accounts for the smoothly run of different applications and browser tabs at the same time. 

This Windows 10 laptop comes with Ghost manta accessories like a USB extension cord, cable, and mouse pad  

Features:
8GB of RAM
Over 10-hour of battery life span
512GB PCle hard drive
14 inch display screen with (1920 ×1080)
Pros: 
Very affordable and get value for money
Very portable and easy to carry
Cons: 
So, up there is a list of the best laptops for nursing students. Let's now take a detailed look at the advantages of having some of the above-listed laptops as nursing students.
Why You Should Have A Laptop As A Student Nurse
More Efficient Note Taking
One of the best tools for easy note-taking is a laptop. When you have a laptop as a nursing student, you can type your notes directly into a document. The use of laptop computers for notes taking is faster and more flexible. With a laptop, you can easily organize your learning materials and make them digital for easy anywhere. You also do a quick search for information online and compare notes with that of your colleagues. 
Enhance Group Work
One of the common practices in nursing school is Group assignment and research. Most often students are asked to work in a group or team. This group assignment always benefits students greatly as it enables most of the students in the group to learn from others. 
Laptops enhance group work and assignment by allowing students to meet and discuss their group works or assignment through zoom meetings and live webinars where study materials are been discussed. With the help of a laptop, accessibility of all the materials needed by nursing students, including classroom notes. 
Effective Communication
With a laptop in the hand of student nurses, they can easily communicate effectively about their assignment by sending emails. If you are having problems or struggling with an assignment or project, you can quickly email a lecturer or send a message to another student in the class. 
With laptop computers, you can easily and quickly jump on social networking or group platforms online to complete your assignments by asking your colleagues questions that you need clarity on. You can also come together to create study materials or study guides. 
Facilitate Research Work
Accessibility of laptops by nursing students opens rooms for easy and more research into health and related problems and solutions. Laptop help nursing Students to easily search for journal articles and eBooks online to enable them to research into health-related subjects. The laptop making it very easy for many nursing students to easily find the information needed on the internet to complete their research work. 
Accessibility and Connectivity
We cannot talk about the advantage of having a laptop as nursing students without how laptops allow students nurses to access learning information whenever wherever there is an available Internet connection.  
In recent days there is free access to Wi-Fi in most colleges. Having access to internet connections allows students to study anywhere they find themselves.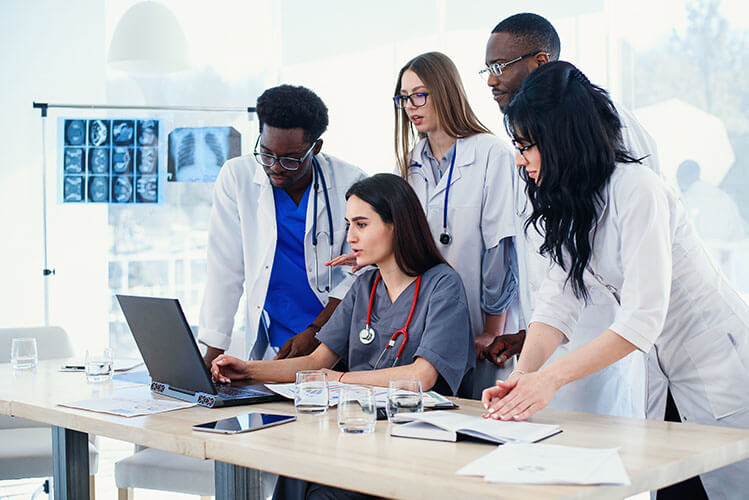 Consideration When Buying A Laptop
Consider The RAM
If you want to have a good experience, it is better to go for 8 GB RAM instead of 4GB RAM – which is of less storage space. As a student nursing you are going to have a lot of practical video and photos on your laptop, so consider buying a laptop that is 8GB- 16GB RAM.  
Consider SSD Cache
With SSD cache laptops, even a minimum of 8GB or 16GB response faster and smoothly. As a student, you going to be dealing with more pdf files and word documents so the 8GB -16 GB RAM will be ideal for you. 
Consider Portability And Durability
Size and life span of your laptop matter. As a student nurse, you need a laptop that you can easily carry on you to anywhere at any time. So, when buying a laptop consider the size and the weight of the laptop. Since you will be doing a lot of reading on your laptop, it is also important to go for a laptop of 13.3 inches display and above with a screen resolution of (1920 ×1080).
Consider Flip And Fold Design(2-In-1)
It's also good to consider a convertible laptop like the 2020 Lenovo Flex 14. That is if you use your laptop as a tablet. If not, just go for the standard. 
Consider the lifespan of the battery
The battery of your laptop is what keeps your laptop alive and kicking. Without it, your laptop cannot be used when there is a power shortage. It's therefore important to buy a laptop that has 8 hours to 16 hours of battery life. 
Conclusion
Now, you have enough information at your exposure to enable you to determine which laptop in the list above is the best laptop for you as a student nurse. It's time to make your choice and I believe by now you have seen one or two laptops that interest you among the six laptops listed above. If so, just go ahead and click on the Amazon button below it to read more about it and also, try to take a look what real-time users are saying about your prefer laptop on the list. From there, you can finalize your purchase.