When the thought of writing about the best reviews of the best options of hand lotion for nurses came to mind, it reminds me of one of my female lecturers some years back in the college of nursing. Whenever she entered the lecture hall, the first thing she always says is, "nurses' hand" and we will all respond with a shout "hands that care". 
Indeed, the hand of nurses are caring hands. But a caring hand also needs care, least it will breakdown and lead to disaster. 
As nurses, constant washing of our hands, robbing our hands with alcohol in the name of disinfection, wearing gloves for hours on duty, are all part and parcel of our daily practices. This is to ensure that our hands are safe and free from infection. They are good practices as far as infection prevention and disease control are concerned. But there is a problem. 
Many nurses experience dryness, cracks, and wrinkling of their hands due to these practices. For example: at the early stage of my nursing carrier, I experience dryness, wrinkling, and peeling off of the skin on my hands.
At first, I never knew it was because of the frequent washing of hands and the alcohol robs. To bring this to an end I tried many skincare products ranging from silicone hand cream, silicone glove hand cream, hand barrier cream.  
A friend even introduced a lotion called waterproof lotion to me but to be honest with you, no cream is waterproof. It just doesn't work so don't fall for it. But the good news is along the I've used some hand lotions and creams that help me take care of the problem. 
So, in today's article, I'm going to share with you the best reviews of the best options for hand lotions and creams. But before we do that, let's, first of all, discuss what hand lotions and hand creams are, what makes a hand cream or lotion good, how to use them, and when to use them.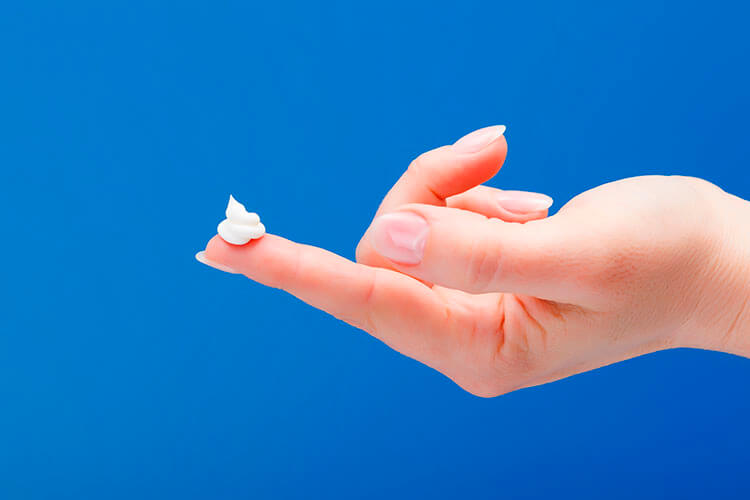 Hand Lotions, Hand Creams, And The Difference
Lotions are local preparations that are very low in viscosity and are meant for use on the skin. They are a mixture of water and oil droplets; hence they have very high-water content – this helps to moisturize the skin. Creams on the other hand are very viscose formula, this is because they usually have very lower water content.  
Because of the thick nature of creams than lotions, they provide barriers that held the skin ultra-hydrated. They are also heavy compare to lotion because of their viscose nature. 
While creams repair disease skin and hands, lotions keep them moist and hydrated due to its high-water content.
When Do You Have To Use Hand Lotion & Creams?
We are talking about the negative effects of frequent washing of the hand and how to prevent those negative effects. But let us keep in mind that other activities can prone our palm to cracks and the skin at the back of our palm to dryness and wrinkles. So, when do we have to use hand creams and lotions apart from after hand washing when we are on duty? See the answers below. 
After spending long hours washing your clothes including that of husby and the kids. When you keep your hands in water for long hours – this may cause dryness and crack if you don't care for them. 
Spending hours in the swimming pool can also cause dryness of the hand if you don't care for them with lotion or cream. Mopping and washing of utensils should also be considered as one of those activities that expose the hand to cracks and wrinkles. 
Sometimes your hands may be exposed to chemicals. Our hands may react to these chemicals differently. Some of them may absorb water from your hands leaving your hand dry. This is the time your hands need hand creams or hand lotions most to stay hydrated and moist. 
Lastly, when you finish taking your bath is one of the best times to apply hand lotion or cream to your hands. So keep the above points in mind. 
That being said, let us now begin to take a look at the best lotions and creams on the market that can take care of your caring hands.
7 Best Hand Lotion For Nurses
1.

Gloves in a Bottle Shielding Lotion

This lotion happens to be the first on our list because it was what worked for me after trying many different ones in the market. It is the best lotion ever for dry, crack, and wrinkle hands. A friend of mine introduced it to me when I have been battling with my dry hands, and it has saved me. This hand Lotion is formulated with natural ingredients such as purified aqua, Triethanolamine, Xanthan Gum, Methylcellulose, Eicosene Copolymer including six essential elements.

All the above ingredients contribute to the ability of this lotion to penetrate the skin, lock in natural oils and moisture, hence, keeping the skin hydrated, healing, and restoring dry and cracked hands. It is also good for healing cracked heels. It is your hand protector from washing products such as soaps and hands sanitizers. 

This lotion is not only good for nurses. It is also good for people battling with psoriasis and eczema.

What we like / don't like about the Gloves in a Bottle Shielding Lotion:
It moisturizes the hands and any other part of the skin quickly
Not greasy at all
A bit expensive but worth the price
If you are battling with dry hands and skin, I will suggest you get this lotion for yourself.
2.

Avon Care Silicone Glove Hand Cream

Avon Care Silicone Glove Hand Cream is one of the best, if not the best hand cream in my opinion. The was a time Gloves in a Bottle Shielding Lotion was out of stock so I have to look for an alternative. That was the time I found this hand cream. It's perfect for health care professionals. This formula is made with Cetyl alcohol, Glyceryl stearate and Mineral oil. It smoothens rough-dry hands and skin. It's an enemy to cracked dried hands. It also keeps the hands hydrated and soft. It's easily absorbed into the skin and it works just like Gloves In A Bottle Shielding Lotion.

What we like / don't like about the Avon Care Silicone Glove Hand Cream:
Very cheap
Absorb easily into the skin
Is your skin rough and dry and irritating? This Avon brand is the cure for you. It's easily absorbs into the skin for maximum effect.
3.

Ahava Dead Sea Mineral Hand Creams

It's a formula that is very rich in essential minerals such as calcium, potassium including magnesium. Ahava Dead Sea Mineral Hand Cream protects the hand, the skin including the cuticles from substances such as soaps and chemicals.   

This all-natural product is formulated from Mineral, Spring Water, Cetyl Alcohol, Glycerin, Ceteareth-30, Sodium Cetearyl Sulfate, Propanediol, Hamamelis Virginiana, Phenoxyethanol, Maris Aqua also known as Dead Sea Water, Dimethicone, Allantoin, Ethylhexylglycerin, Parfum. This water and vitamin-rich cream keep the hands Hydrated, Moist and Soft. 

The cream also contains a mineral catalyst – Osmoter. This catalyst empowers the skin to remain moisturized and strong by activating its own moisture reserves.

What we like / don't like about the Ahava Dead Sea Mineral Hand Creams:
It's all-natural
It's paraben-free
The size is very portable
If you want a hand cream that is free from paraben with a slight sea-kissed scent, then go for this cream.
4.

O'Keeffe's Working Hands Hand Cream

This hand cream by O'Keeffe cannot be left out. is very condensed in nature. When it comes to hand healing, repairs, and relief, it another option you can spend your money on.  

Extreme dried- cracked hands and feet? O'Keeffe's Working Hands Hand Cream is designed to take care of that problem by creating a protective membrane on the surface of the skin which increases the moisture capacity of the skin hence keeping the skin very hydrated.  

Many real-time users love this cream and here is what some of them have said about the cream:
Great for Dry, Cracked Winter Hands! 
Life-changing
Impressive results
This is not like any ordinary hand cream, etc. 
What we like / don't like about the O'Keeffe's Working Hands Hand Cream:
100% Money-Back Guarantee
Extreme dried-cracked hands and feet O'Keeffe's Working Hands Hand Cream is designed to take care of that problem. So, go for it.
5.

Camille Beckman Glycerine Hand Therapy Cream

This handmade formula has made its way on our list because of the all-natural ingredients it's made of. This includes purified water, cetyl alcohol, stearic acid, pure glycerine, sweet almond oil, dimethicone, tocpherol, vitamin E, aloe vera gel, wheat protein, sodium citrate, propylparaben, methylparaben. The formulation will not only keep your hands moist but also very soft.

What we like / don't like about the Camille Beckman Glycerine Hand Therapy Cream:
It 100% natural plant formula
Has a slight cucumber scent
If you want an effective therapeutic cream with a slight cucumber scent that can get the job done for you, then I recommend this cream.
6.

La Roche-Posay Cicaplast Hand Cream

This handmade cream is another famous Cream that provides 24 hours hand hydration by Moisturising the Hands and keeping it from Drying. The formula is made with Shea Butter, Glycerin and Niacinamide. It's said to be resistant to water, and is suitable for people who wash their hands frequently.

It has a fast and high absorption rate when applied to the hand or skin. 

The cream has also been tested by dermatologists and it's recommended by over 90, 000 dermatologists globally.

What we like / don't like about the La Roche-Posay Cicaplast Hand Cream:
Very cheap
Suitable for Sensitive Skin
Fragrance-Free
Paraben-Free
If your skin is a sensitive type then, this cream will be the best option for you.
7.

Aveeno Skin Relief Moisturising Lotion

If you have been suffering from dry and cracked skin including any type of skin disorder and you have tried many types of moisturizers, skincare lotions, and cream but the problem persists, then Aveeno Skin Relief Moisturising Lotion is just what you need. It has worked for 99% of women suffering from dry-itching irritating skin. 

This skin relief hydrating Lotion is made with a Prebiotic Triple Oat Complex that includes extract oat, colloidal oats and oat oil. It is tested clinically and proven to the skin fully hydrated for 24 hours, keeping the skin very soft and also free from irritation.

What we like / don't like about the Aveeno Skin Relief Moisturising Lotion:
Very cheap but very effective
The container is a bit bulky
If you need a cure for your dried irritated skin, go in for Aveeno Skin Relief Moisturising Lotion.
Buying Guidelines
As a nurse or a healthcare provider, your hands are not for you alone. It's your patients' property as well as yours. Therefore, there are things to consider when buying hand lotions or hand creams. 
Number one is fragrances; I mean the scent of the cream or lotion. There are creams and lotions with strong scents. Stay away from them especially when you want to use them on duty, as these strong scented lotions and creams may trigger an allergic reaction for your patients.  
I have seen asthma patients on a few occasions get attacks because the nurses attending to these patients wear strong scented perfume. So, keep this in mind when buying lotions or creams for the hand. Remember the safety of our patients is always first.
Final Conclusion
Your hands and your skin are precious, if not to you then to your patients. So, fight a good fight to take care of them with the best lotion or cream. 
There are a lot of them on the market you can buy but not all hand creams and lotions are good for you and your patients. 
We have played our part by making a list of the best and the most effective and safe ones for you based on my personal experience and also some of my friends in the nursing profession. Whether you want lotions or creams, unscented or fairly scented, they are all up there on the list. 
And if you are paying attention whiles reading through the list, you will notice that number one and number two on the list are our best recommendations for you based on personal experience. The remaining 5 on the list  were also recommended by colleague nurses and dermatologists, so, don't hesitate to try any of them.
Gradually, here come the end of this review. Thank you for taking the time to read through to this point.  
But I would like to remind you that everybody has choices, so it's now your turn to make your choice. Therefore, go ahead and do that now. 
Nurses' hands: the hands that care!