If you are a nurse and you are looking for the best compression socks for nurses, then you are at the right place because, in this article, my team and I have provided you with some of the top-rated compression socks for nurses as well as the benefits of compression socks for nurses.
That is not all, in the cause of reading, you will also discover different types of socks like big and tall compression socks for nurses, medical compression stockings for nurses, extra wide calf compression socks for nurses, best compression stockings for nurses and the measurement of pressure in compression socks.
In addition, we have also provided answers to some frequently asked questions like: Why should nurses wear compression stockings? What are the best compression socks for nurses? How long do compression socks last? How should compression socks fit? How tight are compression socks supposed to be?
Now that you know what to expect from reading this article, go ahead and enjoy it.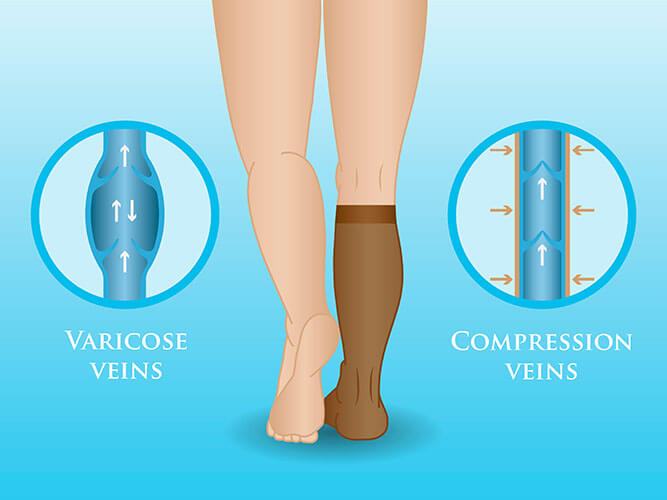 Compression Socks. Benefits Of Compression Socks For Nurses
Compression socks, also known as compression stockings are specially designed socks that are very long or tall. They are meant to apply a specific amount of pressure to the lower legs to help maintain adequate blood flow and to reduce swelling as well as discomfort.
Designed with larger length and pressure than the traditional socks, compression socks are meant to gently squeeze the legs than the traditional socks. The main function of compression socks is to promote adequate blood circulation in the legs.
It's also important to note that compression socks come with various pressure, and these are measured in millimetres of mercury (mmHg). The pressure in compression socks are rated at light pressure (from 10 and 20 mmHg), mild pressure ( from 20 to 30 mmHg) and heavy pressure (from 30 -40 mmHg and above).
This is why you will see descriptions like 15-20 mmHg compression leggings, 15-20 mmHg compression stockings, 15-20 mmHg knee-high compression socks, 20-30 mmHg compression leggings, 30-40 compression socks, 40-50 mmHg compression socks and many more.
Why Should Nurses Wear Compression Socks?
Studies show that long-standing can result in venous disorders of the legs, and nurses can not be exempted from this group of people as they spend more time on their feet during the day. However, there is numerous evidence about how compression socks can help prevent or resolve this problem.
For example, in situations where there is venous insufficiency, a condition where the valves of the veins fail to function, the blood remains in the legs without going back to the heart.
A gentle squeezing of the legs by compression socks can easily increase the pressure in the veins- this will improve circulation. As a result, there will be a reduction in swelling as well as prevention of swelling. Also, compression socks prevent superficial veins from expanding, preventing them from being fill with blood.
 Another reason why nurses and any other person should wear compression socks is that they enhance blood flow when you are sitting for long hours like when travelling by car or flight.
Detailed Review Of The 5 Top Rated Compression Socks For Nurses
1.

Tapesb's Nurse Compression Socks For Women

Tapesb's Nurse compression socks for women is breathable, circulation, wide calf compression socks with 20-30mmhg comprising pressure.

It's a plus-size compression sock for plus size nurses. The size range from XXL to XXL. Being designed to provide gradual compression, the Tapesb's Nurse compression socks for women promote circulation in the calves.

Even though plus size women are the main focus, Tapesb has done a great job by designing multiple sizes to enable all nurses to get their ideal size of compression socks.

These medically designed rainbow colour compression socks for women are produced under the guidance of a medical professional. Using the right proportion of material; 65% nylon, 15% spandex, 5% lycra fibre and 5% copper fibre, these Compression socks help in reducing vibration in the feet. It also serves as a sweat absorber to make you feel much comfort on your feet.

If you are a nurse and you want a healthy lifestyle for your feet, then these breathable compression socks will help you. You can say bye to feet problems like oedema, fatigue, varicose veins etc.

For restoration of damaged muscles in the feet and legs, get this 8 pairs compression socks. You can also consider these compression socks as one of The Best Nurses' Accessories for work.

Features:
S-XXL
20-30 mmHg compression
Damping and non-slippery
Ankle and arch compression
Pros:
Very affordable
Very fashionable
Very flexible and breathable
Very durable
Comes in different sizes
Cons:
These compression socks are a must-have for 12 hour-shift works. They are very great and very different from your usual compression socks. Give it a try today.
2.

NuVein Medical Compression Stockings

NuVein Medical Compression Stockings for men and women is the USA made compression socks in a classic medical knit style. With compression pressure of 20-30 mmHg, these USA made compression stockings is considered by many users as one the Compression stockings for standing all day

This well-designed unisex NuVein medical compression Stocking is best fit for everyone. It's therapeutic graduated compression ensures restoration of blood flow as well as circulation. It's designed to meet hospital grade standards for everyday use.

NuVein medical compression socks easily relieve common vein disorders associated with long-standing and sitting. It's best for adults all of all ages when it comes to treatment and prevention of cardiovascular stress. 

The NuVein Medical Compression Stockings. comes in different compression Strengths; mild strength, medium strength and heavy Strength compression. This is good because you can choose the pressure that best suits your needs.

NuVein suggested that travellers who suffer from jet leg, pregnant women including nursing mothers should wear medium strength compression socks 

The NuVein compression sock is designed with some unique features like the Roomy toe pocket which doesn't compress the toe but provides great comfort at the hammertoes, the classic styling prevent slipping and rolling, while the Knit heel pocket secure the garment in position.

Features:
Classic styling
Up to 20-30 mmHg compression
Unisex design
Roomy to pocket
Classic styling
Pros:
Different compression strength
Made from durable hospital grade material
Great value for money
The knit heel
Cons:
The length is not ideal for everyone
If you are looking for nursing compression leggings, support knee highs for nurses or nurses yard compression socks to give you feet the best health care, then the NuVein Medical Compression Stockings is all you. Go get it.
3.

Zeta Socks Open Toe compression socks

The Zeta Socks Open Toe compression socks are extra wide calf compression socks for nurses. The design is best for plus size women in general. It comes with heavy compression pressure; 20-30 mmHg. It's USA made – using high-quality grade medical compression materials.

It's meant to be used by plus size women during activities and also as prescribed by medical doctor to their patients. The opening of these socks is very soft and thicker than the usual compression socks. This makes it easy when it comes to wearing and removing.

The Zeta Socks Open Toe compression socks will provide you with the same compression as any other compression socks, however, you will not feel too much tightness in your legs. But it will provide your legs with the needed circulation at all times especially during sports activity.

Features:
Graduated compression of 20-30 mmHg
Multi stretch design provides superior comfort
Pros
Easy to wear and remove
Better fitting
Made with durability
Look very Fashionable
Smooth and soft fabric
Cons
Not ideal for slim people
Looking for plus size extra wide calf compression socks for nurses that can help prevent and alleviate DVT, varicose veins, oedema, thrombophlebitis and other vein related disorders in the feet? Choose  Zeta Socks Open Toe compression socks with the extra-wide calf for plus size women.
4.

TechWare Pro Ankle Compression Socks for Plantar Fasciitis

This is to my fellow nurses who are battling with plantar fasciitis or are at risk of heel pain caused as a result of plantar fasciitis.

The TechWare Pro Ankle Compression Socks for Women & Men-Plantar Fasciitis Socks offers compression and support at targeted areas like the arch and ankle. This causes an increment in the amount of blood flow in those areas and also speed healing or recovery.

These socks are perfect at providing instant when put them on, they also help in reducing swelling. The moisture,  breathable and nature of the fabric provide suitable that keep the feet cool and dry, and make you feel comfortable. 

Being made with Stretch Fabric that is very light in weight, it also Provides Relief from Arthritis including and Muscle fatigue. Because the fabric is soft, this Slim and highly breathable sock is not in the position of less compression. 

This therapeutic sock aid in relieving Plantar fasciitis by bracing the splint resulting in relieving pain in the arch and the heel. It has ability to compress expedite healing rapidly.

The TechWare Pro Ankle Compression Socks is not only good for nurses with plantar fasciitis but also for basketball players, soccer player gymnastics, tennis players, runnier and any form of an athletic game.

This sock comes in four sizes: Small, Medium including Large and  Xlarge. And it's unisex.

Features:
Flared relaxed top
Foot closed toe design
Graduated compression
Unisex design
Pros:
Very durable
Made with high quality 80% Nylon and 20% Spandex which provides tough construction as well as comfort
Cons:
Only 1 Pair
Quite expensive
For great and quick repair of damaged tissues in case of plantar fasciitis, this is a must-have pair of socks. It's one of the best compression socks nurses with plantar fasciitis have to fall on.
Please, do not forget to refer to the size chart when placing your order. This is to ensure that you order the right size. 
Read Related Article: The Best Shoes For Nurses With Plantar fasciitis
5.

Aoliks Unisex Compression Socks for Women & Men Circulation (4 Pairs)

The Aoliks Unisex Compression Socks for Women and Men is a well-designed compression sock for treatment or preventing varicose veins. And this is the reason why it's one of the best socks for standing all day or the socks for standing long hours.

This sock is exceptional because it's designed to provide great circulation and the best support for users. And it a great deal for expectant nurses as women carrying pregnancy are often prone to swelling of the feet, fatigue and feet discomfort 

These Aoliks socks are medical-grade graduated compression socks that have the needed amount of compression to reduce fatigue by promoting enough blood flow to the legs. It comes with an extra-large cuff and is very stretchy and very easy to wear with struggling comfortable material.

Made with highly breathable and flexible fabric, the Aoliks Unisex Compression Socks for Women & Men aids in maximising circulation, reducing swelling and eliminating oedema especially in pregnant women. It provides users with a feeling of natural comfort

The breathable and comfortable Aoliks compression socks for women and men is 20-30 mmHg compression socks. These compression socks are ergonomically designed with a soft that is very friendly to the toes. The interior lining of the socks is very soft and accommodating to the toes. This sock comes in 4 pairs

The Aoliks Compression stockings are best for people like nurses, teachers, sportsmen, pregnant women etc.- that's people who stand or sit for many hours.

The beautiful thing about the Aoliks compression stocking is that the combination is very suitable for both men and women. It is more like the partner of your life.

 Features:
20-30 mmHg compression
Come in 4 different sizes
85% Nylon, 15% Polyester
Pros:
Very affordable
Made of quality breathable material
Easy to wear and remove
Different size
For both men and women
Cons:
Not ideal for people who need minimal compression
If you worry about giving a suitable gift to give to a nurse, then worry no more because the Aoliks compression socks are one of the best choices when it comes to The Best Gifts For Nurses And Nursing Students. Don't miss out on the compression socks for standing all day.
Considerations
Consider the size, the material and the compression strength whenever you are buying any form of compression socks. Always check the right compression strength of compression socks before purchasing. When the pressure of the compression is strong it will impact application and it will more tight on you.
Final Conclusion
Whether you are a station nurse or a travel nurse, one thing is certain – the job is demanding. You are going to be standing on your legs for long hours. So do well to make good use of pairs of compression socks to provide you with the needed comfort so you can be on top of your job. Considering consulting your doctor if the need be.