Today we will be discussing some of the best backpack for nursing school and staff nurses in general.
But you may be wondering why backpack?
If you are a nurse or a student nurse, you probably know how challenging it is to properly organized and convey your nursing essentials 'to and from' work or classes. This is a common challenge among nurses and nursing students, but the good news is that backpack or a handbag can help take care of this challenge.
Staff nurses and student nurses turn to carry a lot of essential items on them on daily basis. I carried a laptop, thermometer, blood pressure apparatus, scissors, hand lotion, pulsometer, penlight, gauze, stethoscope and a small notebook to work every day.
It's the same with other nurses, and also nursing students. The students even carry more items to lectures and clinical practice. Most of these essential items include books, laptops, pen, umbrella, snacks, scrubs, phone chargers, Voice Recorders, Notecards or Quizlet, Badge Clips, Nursing Watch, manual blood pressure set, and many more. Nursing is a tough journey and can be very frustrating on the road, you would have to buy a lot of nursing essentials and carry them with you every day to lectures and clinical practices.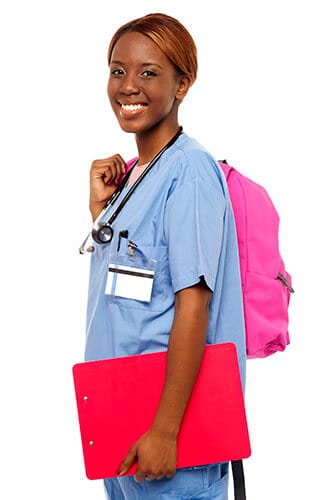 But the big question is, as a nurse or a nursing student, how do you carry all these items on you? This is where the nursing school bags, the nurses' handbags, and the backpacks for nurses, nursing students, and other health professionals come into the picture.
Nurses' backpacks come in different forms, different sizes, different colours, and different designs. But not all backpacks are made purposely for nurses and other medical professionals. However, the functionality of most backpacks makes them ideal for use by health professionals and students.
So, as a nurse or a nursing student, you would have to, first of all, find out what kinds of nursing essentials or items you have. This will help you determine the type of backpack or handbag to go in for as your nurse's handbag or nurse's backpack. But this is not an easy job since there are thousands and even millions of handbags and backpacks on the market.
Hence, we have gone the extra mile to help make your search for nurses backpack easier by putting together a list of some of the best backpacks for you. Take your time and have a look at them and if anyone suit your need you can settle for it. But before then, understanding that each backpack have specific or unique functionality that makes it stand out of the millions on the market.
I must also confess that the number one backpack on the list is what have been using for the past 2 years and it's one of the simplest but best, durable and spacious backpack I've ever seen and having being using for the past 2 years after trying many other ones on the market.
Top 5 Best Backpacks for Nursing Students
Lovevook Backpack
Description:
I bought this backpack in August 2018 and must say that this backpack beat my imagination. The number of compartments, and the inner pockets are the amazing things about this backpack.
It's a well-designed backpack for professionals of all levels including college students of different studies. One beautiful thing about this backpack is it comes with a large mouth opening. The largemouth opening is a special feature that other backpacks don't have. It allows for easy access and easy organization of items. Because this backpack has a very spacious inner chamber, you can
load it with a lot of items but the backpack will still be looking like there's nothing inside. It just a type of backpack that cannot be compared to any other backpack from my point of reviews.
Also, the backpack has a USB port and about 18 pockets in total, Yes! You heard me right, it has 18 pockets in total. Now, do you see why this backpack can equally be at the number on this list and why you don't need any other backpack apart from this?
Most often, I used this backpack for holiday trips. This means this backpack is multifunctional.
Features:
15.6 laptop compartment
Phone hiding pocket
One main big zip pocket
USB charging port
2 small open pockets
Pen and pencil holders
Port for USB charging
Large compartment for storage of different items
Have about 18 interior and exterior apartments or pockets
What we like / don't like about the Lovevook Backpack:
Less expensive
Made with quality durable material
See, if you truly need a backpack, then go for this backpack and come back to thank me later. It's very cute and doesn't look very or bulky but have a lot of space within to carry numerous items.
Yalundisi Backpack
Description:
Yalundisi backpack is a very simple backpack designed for students and men and women who fancy backpacks and use them for travel and as a house their laptop.
For students, it's a special laptop and Book bag with Anti-theft bag lock.
This backpack is very stylish and fashionable with a phone charging USB port. You don't have to worry about your phone running low. There is also a jack for your headphone for you to keep grinding music all day long while going about your daily routines
Designed with very high-quality waterproof polyester material, hence you don't have to worry about your items getting wet. It very portable and suitable for trips of any kind provide you will not carry a lot of items.
Features:
USB Charging port
Headphone jack
Breathable soft padding
Very soft and comfortable feeling shoulder straps
Stripe for reflect
Compartment for laptop
Two side pockets
What we like / don't like about the Yalundisi Backpack:
Very portable
Very fashionable
Very cheap
Very small
Does not have many compartments
No power bank attach
If you are student nurse and you need a small nice-looking and attractive versatile backpack that is ideal for carrying few books and laptop to class and also for weekend or holiday trips, then this the best backpack you should lay your hands on. It's also suitable for children of all schooling age because of it small portable size.
LTINVECK Backpack
Description:
LTINVECT Extra Large Travel Laptop Backpack is one in a million. As the name goes, it a backpack that is large and it's suitable for schooling, travelling and can be use by both male and female students. It has twenty pockets that include three main storage compartment and hidden pockets. This contributes the backpack's capacity to house large number of items like college students' essentials, clothing, books, etc. It one of the best book bags for nursing students on the market today.
Above all, it's mode with a port for USB with cable for charging phone and student lecture recorders. With its sturdy handle and board side straps, it provides users with comfort at the shoulder blade at whatever level it is being loaded with items. You will definitely love how fashionable and comfortable it feels to carry on you with all your item packed in it.
Features:
Many compartments including pockets
Large storage capacity
Strong straps
Rugged Metal handle
Headphone ports
Side pockets
Dual lockable zippers
What we like / don't like about the LTINVECK Backpack:
Made of durable material
Looks fashionable
It's modern
Very bulky when loaded
A bit expensive compare to the rest
Are you a student nurse who want to have all your important items including some clothes packed at your back in one backpack? Then you are at the right place. I can assure you that this backpack is one of the best backpacks for nursing school students.
Wheeled Backpack
Description:
This is the best rolling backpack for nursing school. It's a well-designed nursing school rolling backpack. It's also good for Men and Women of all walks of life including doctors, nurses, and nursing students, teachers, etc. It has a large main compartment for storage of clothes and several pockets including a 17-inch laptop compartment and extra space for other essential items.
Made of a high-quality tear-resistant and durable material, the Rolling wheel is very strong and can be easily adjusted.
Features:
Rolling wheel
Name tag
External USB port
What we like / don't like about the Wheeled Backpack:
Portable
Made of quality materials
If you want to save your back, I mean if you want a backpack that you can be rolling on the floor instead of carrying it at your back like a baby, then, lay your hands on this backpack and give your back holiday to rest.
FreeBiz Laptop Bag Convertible Backpack
Description:
This is uniquely designed three in one bag. It can be metamorphosed easily into different types of bags: business bag, travel bag, school bag, backpack, etc. for men and women. This backpack is designed to protect and keep your laptop save. It has a removable shoulder strap and one back pocket to house the back straps.
Features:
Spacious compartment items
Removable back straps
Padded compartment for laptop security
What we like / don't like about the FreeBiz Laptop Bag Convertible Backpack:
Multifunctional: three in one
Very portable
Expensive
It is heavy to carry when loaded
If you are looking for a bag that you can easily convert into a backpack, briefcase, messenger bag at any time, then this bag will be the best option for you.
Consideration Before Making A Purchase
There are varieties of backpacks and handbags on the market. So, when it comes to choosing a backpack or a handbag for carrying your nursing essentials, there are some factors you must consider before buying.
This includes the features of the handbag or backpack, the size of the backpack, the type of materials used to make it, the durability of the materials used in manufacturing the backpack. The storage space (compartments) within the bag and how easy is it to accessibility, how easy is it to clean, how much will it cost, how easy is it to carry. Does it have carrying options and above all the design of the backpack.
Also, consider asking friends and colleagues/mates at your work or school what type of handbag or backpack there are using and what they love about their choice. When you put all these factors into considerations it will lead you to a better purchase.
Final Conclusion
All the backpacks and handbag on the list above deserve the number position on the list but we cannot put more than one bag at a position.
And if you ask me: "Albright, so which one do you prefer?"
From my experience here is what I will tell you: When it comes to the best option for a backpack for nurses and nursing students, go in for Lovevook backpack. But if you need a backpack that is very small, fashionable and nice-looking, then you might want to go for Yalundisi Backpack.
Trust the Wheeled Backpack on the list. It's my recommendation for the best rolling nursing school bag. And for the best medical school bag or medical student backpack, go for FreeBiz Laptop Bag Convertible Backpack, it possesses all the qualities and features for the job.
I hope you find this helpful?